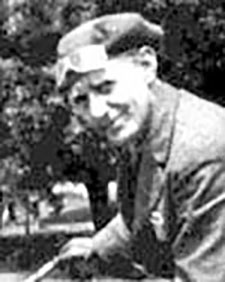 END OF WATCH: July 20, 1925
Bay Village Police Department
Age: 43
It was said that Harvey Yoder made a dashing figure on his motorcycle as he enforced the laws of the then Village of Bay. Back in 1918, when he started his law enforcement career, the motorcycle was the tool he used most often to enforce speeding laws.
Three times previous to the fatal afternoon of July 20, 1925, Yoder spent time in the hospital for injuries sustained from accidents on his police motorcycle. Ironically, it was not his motorcycle that took his life, but a new Ford Roadster Runabout he was testing. Yoder was driving south on Dover Center Road and probably failed to see the Lake Shore Electric Limited Car which crossed Dover Road on a private right-of-way just south of an orchard. He was thrown forty feet and killed instantly. The car was a total wreck.
Officer Yoder was single and lived with his mother, Myra Osborn. He was a nemesis to speeders and often boasted he never let a speeder get away. The entire village was sorrowed by his death. Council authorized seventy-five dollars for an enlarged picture of Harvey Yoder to be displayed in the Town Hall. To this day that picture is in the Police Division lobby.
Harvey A. Yoder's name is inscribed on the National Law Enforcement Officers Memorial Wall, Washington, D.C. panel 55, west wall, line 10.
His name was called October 15, 1991, at 4:50 a.m. during the Memorial's dedication ceremony.
By Chief William E. Gareau, Bay Village Police Dept.