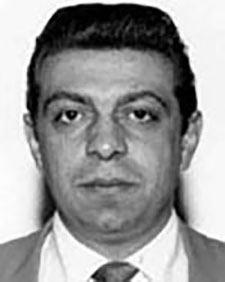 END OF WATCH: September 17, 1979
Cleveland Police Department
Age: 52 | Badge# 1741
George Zicarelli came from a police family. His father and uncles were Cleveland policemen. George was nearing the end of his career and planed to retire in February, 1980, after completing his thirty-third year on the force.
Detective Zicarelli was a forgery specialist in the fraud unit before the unit was disbanded earlier in the year. He was now assigned to the Fourth District detective bureau where he was to accompany Detective Sharon Caine and Strongsville Police Detective, Max Lehnecher to New York City to extradite two females wanted in connection with grand larceny, forgery and auto theft.
On September 17, 1979, In New York City, Detective Zicarelli and the two other officers were approached by three subjects in a hotel parking lot as they exited their vehicle near La Guardia Airport, in Queens. The subjects attempted to rob them at which time, Detective Zicarelli and the other officers identified themselves as police officers. One of the subjects opened fire, killing Detective Zicarelli. The suspects then stole the officers vehicle and fled. One of the officers drew his weapon, but was not able to obtain a clear line of fire.
It was later learned, the car and the occupants matched the description of suspects involved in an earlier robbery at a diner just four miles from the hotel. The suspects were also believed to be involved with a string of robberies at area hotels, restaurants, and supermarkets.
Two suspects were captured the next day by detectives from the New York City Police Department, the third turned himself in to a local television station.
George Zicarelli's name is inscribed on the National Law Enforcement Officers Memorial Wall, Washington, D.C. panel 51, west wall, line 17.
By: P.O. Tom Armelli & Det. James T. Farmer, Cleveland Police Dept.