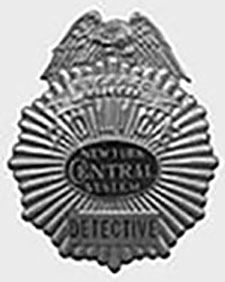 END OF WATCH: July 28, 1920
New York Central Railroad Police
In the early 1900's the Elyria Police Department maintained a "Bum Cell". As many as thirty to sixty transients a day would be rounded up from the railroad yards, and incarcerated for the night. In the morning they would be sent on their way with orders to leave town. Police found this process to be very effective in keeping the burglaries, robberies, assaults, and thefts in check.
NYCRR Detective Sergeant David H. Barnes, at 6'04", worked fearlessly and was single-handedly responsible for as many as half the number of arrests on any given day.
On the evening of July 27, 1920, Sgt. Barnes made the arrests of three transients and delivered them to the police station. He returned to the area of the East Bridge Street railroad undercut to locate two more suspects.
As Barnes walked the tracks, a suspect lay in wait, concealed behind boxcars. Three shots rang out, the first striking Barnes in the groin and knocking him down. The second missing its mark. The third shot was fired point blank, striking Sgt. Barnes in the head and causing his death.
Initially police believed that two local men were involved in the shooting. Both suspects were later cleared when they were able to provide solid alibis.
The prime suspect, a notorious bank robber who had been in numerous shootouts with police, was convicted and sentenced to life in prison for the slaying of East Cleveland Detective Patrick Gaffney (EOW 12-19-1918). He died in prison. He was never prosecuted for the murder of Sgt. Barnes, or the shooting and wounding of two other police officers in separate incidents.
Detective Sergeant David H. Barnes was 48 years old at the time of his death. His wife and four children survived him.
By: Det. Al Leiby, Elyria PD (Retired)