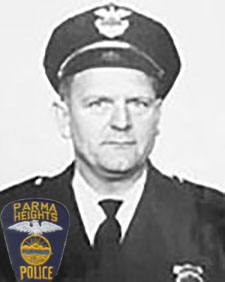 END OF WATCH:  October 25, 1972
Parma Heights Police Department
Age:44
Death, while a tragedy, is comforted knowing a man who was also a dedicated police officer and devoted husband and father gave his life in defending his friends, family and community. Sergeant Bennett, a 44 year old veteran police officer, gave his life in the performance of his duty.
Bennett strongly believed a man was born to honor God and his Country, began a career in the Navy serving in the Pacific Fleet for four years. After obtaining a honorable discharge in 1949, Bennett married his wife, Mary Lou and began his family.
Bennett was appointed to the Parma Heights Police Department on June 1, 1957, and promoted to Sergeant on January 26, 1965. He was a dedicated policeman who was an expert in police photography, weapons, firearms and fingerprinting. Bennett was the Range Officer who later had dedicated in his memory the SGT. ROBERT BENNETT POLICE FIREARMS TRAINING RANGE.
On October 25, 1972, at approximately 1:15 p.m. the Parma Heights Police Department received a bank alarm from the Continental Bank Branch at 6809 W. 130th Street, Parma Heights, Ohio. Captain Richard Parker stated that while Sergeant Bennett was heading for lunch in the same direction, he received a radio dispatch that a bank hold up was in progress. Bennett acknowledged and proceeded to the robbery through the back parking lots to the rear of the bank. One suspect exited the rear entrance dressed as a police officer with a female hostage.
The hostage, a bank teller, broke free to safety. Gunfire was exchanged between the bank robber, Sgt. Bennett, and other law enforcement officers simultaneously. According to Sgt. Walter Barth, the bank robber fired the fatal shot that struck Bennett. Bennett returned the fire from a crouched position just before collapsing, resulting in the bank robber's death, as confirmed by the Cuyahoga County Coroner's Office. Bennett's shots spun the bank robber around as a blast from additional officers struck him in the rear and right arm.
Sgt. Roger Bosze made his way to Sgt. Bennett and held the fallen officer in his arms until the Parma Heights Fire Department and ambulance arrived. Bennett was transported to Parma Hospital where he was pronounced dead from a gunshot wound.
The other bank robber retreated into the bank and was subdued after a brief struggle. He was sentenced in 1973, at the age of 54, to a minimum of 120 years in prison for his involvement in an attempted bank robbery that ended in the death of Sgt. Bennett. In addition to the slaying charge, he was convicted of attempted bank robbery, two counts of taking hostages and two counts of assaulting bank employees. He became eligible for parole in 1992. The dead bank robber's wife was also arrested five days later, charged and convicted with conspiracy for her involvement in the hold up.
More than one thousand policemen, including all twenty-three on the Parma Heights force, assembled to honor Sgt. Bennett. Neighboring state officers came to pay a silent and solemn tribute to Bennett. The funeral Mass, which was attended by many family members and friends, was conducted at St. John Bosco in Parma Heights, Ohio. The funeral cortege to Holy Cross Cemetery in Brook Park, Ohio, included about one hundred and fifty police cars representing scores of Departments from Cleveland, suburbs, and elsewhere. While the Parma Heights force mourned the loss of a friend and respected leader, police officers from North Royalton and Brook Park took over the duties of Parma Heights. "This was one of the largest turnouts I have ever seen," said Captain Edward Bowolak of Parma Heights. "It was incredible." The family requested a final pass by the Parma Heights Police Station which was the site of fifteen and one-half years of service resulting finally in the loss of his life while in the performance of his duty. He was survived by his wife Mary Lou and six children, Robert Jr., 21, William, 18, Joseph, 16, Catherine, 15, Thomas, 13, and Mary 9.
Among the many who paid their respects were the Mayor of Parma Heights, Paul W. Cassidy and the Governor, John Gilligan. Mayor Cassidy established the "Robert Bennett Memorial Fund" to aid the widow and six children of the slain officer. "This is the only way we have to say thanks to the family of a policeman who died serving his community," said Cassidy.
Parma Heights City Council authorized the purchase of a plaque memorializing Sgt. Robert Bennett, the only officer of the Parma Heights Force ever to be slain in the line of duty. The plaque now hangs at The Sgt. Robert Bennett Firearms Training Range.
Father John Cregan, Police Chaplin, commemorates a concelebrated mass each year honoring all Police and Firemen killed in the line of duty.
The family of Sgt. Robert W. Bennett summarized their feelings in the following note to the people of Greater Cleveland: "Your kindness and sympathy are more deeply appreciated than any words of thanks can ever express."
Robert Bennett's name is inscribed on the National Law Enforcement Officers Memorial Wall, Washington, D.C., panel 41, West Wall, line 15.
By: Keith Witkowski, Greater Cleveland Peace Officers Memorial Society