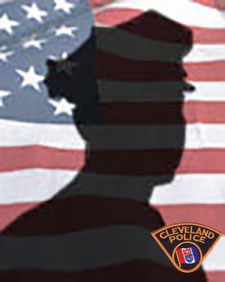 END OF WATCH: September 19, 1928
Cleveland Police Department
On September 19, 1928, 6:30 pm, Officer Ernest Ford completed his shift and was on his way home with his lovely fiance. While driving on Scovill Avenue, he became aware of an all too familiar odor. Unable to just drive on, he advised his fiance to wait in the car while he checked something out. He expected to be gone only a few minutes.
After about fifteen minutes, his fiance heard several shots ring out. Unable to see anything, she was positive the sound was not a good omen. She got out of the car and went into a yard at 3314 Scovill, where she discovered her fiance, Officer Ford lying on the sidewalk. She immediately called the police. The investigating officers rushed Ford to Charity Hospital where he died at 7:55 pm.
During the subsequent inquiry, a still was discovered in one of the two houses on the Scovill Avenue lot. After considerable investigation and the interviewing of many witnesses, some of whom gave conflicting testimony, Sam Costanzo was arrested and charged with first degree murder. Mr. Costanzo was tried and convicted of second degree murder and sentenced to life.
Ernest Ford's name is inscribed on the National Law Enforcement Officers Memorial Wall, Washington, D.C. panel 55, west wall, line 16.
By Ann McGill