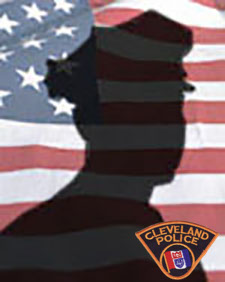 END OF WATCH: September 13, 1917
Cleveland Police Department
Age 34
On Wednesday, September 12, 1917, at 2:05 am, Patrolman Elmer P. Glaefke was shot and killed on the corner of Seager Avenue and East 86th St. while he and Patrolman John Walsh searched three suspicious men for concealed weapons. Glaefke was assigned to plain clothes duty and worked out of the Broadway/Jones Road Station. Patrolman Glaefke was the sixteenth Cleveland police officer killed in the line of duty.
Glaefke and Walsh stopped three suspicious men on the street and lined them up, searching for hidden weapons. When Walsh searched one of the men, the other two drew pistols and fired past Walsh at Glaefke. Glaefke fell to the ground, shot in the head, heart and abdomen, he died almost immediately.
All three men fled, pursued by Walsh. Walsh emptied his revolver at the fleeing men and claimed to have struck one of them. The suspect fell to the ground but was carried off by the other two fleeing men. Walsh lost track of the three suspects in the area of East 93rd and Cannon.
A short time later police arrested, 25 year old Carmello Licati of Woodland Avenue and 26 year old Tony Lombardo of East 22nd Street in the area of East 84th and Union. Walsh identified the two men and issued first degree murder warrants against them. The third suspect identified as Carmello DiMaio was eventually arrested and also charged with murder.
Elmer P. Glaefke was survived by his wife, Anna, and two children, Norman, 8, and Eleanor, 3.
On September 15, 1917 Elmer Glaefke was laid to rest at the Harvard Grove Cemetery, 6100 Lansing Avenue in Cleveland. His wife, Anna, died in 1953 is buried with him.
On July 15, 1918, charges were dismissed against Carmello DiMaio.
On July 1, 1918, Carmello Licati was convicted of second-degree murder and sentenced to life. Tony Lombardo jumped his bond and a capias was issued for him on April 9, 1919. It is unknown if Lombardo was ever found. (Accounts taken from newspapers of the day.)
Elmer Glaefke's name is inscribed on the National Law Enforcement Officers Memorial Wall, Washington, D.C. panel 29, west wall, line 1.
By Lt. Edward Lewis, Bay Village Police Dept.