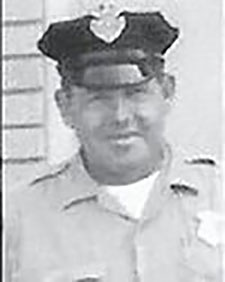 END OF WATCH:  May 29, 1975
Cleveland Police Department
Age: 49 | Badge: # 988
Officer Maher proudly served the City of Cleveland, Ohio for over 25 years. He was appointed on March 3, 1949 and assigned to the 6th District. He was a WWII veteran, serving in Europe and a member of the Fraternal Order of Police. His beat was 152nd Street and Lakeshore Blvd. and also 185th Street. In the summer he was stationed at 105th Street and St. Clair Avenue.
Sometime before noon on May 29, 1975, Patrolman Maher ran more than a city block to aid a young man involved in a motorcycle accident on the busy intersection of 152nd and Lakeshore Blvd. After stopping traffic he quickly assisted the young man over the curb out of harm's way. He proceeded to go back and pick up the motorcycle and steered it off of the street. Officer Maher called for an ambulance and waited with the victim until help arrived. He then walked back to his corner just in time to cross the children at the noon hour.
It was soon after the above incident that Officer Maher collapsed while crossing the children from Memorial and St. Jerome schools. He was rushed by ambulance to Euclid General Hospital where he was pronounced dead upon arrival.
To quote the principals of Memorial and St. Jerome schools: "Officer Maher was a very popular and respected policeman. He knew all of the children by name and they looked up to him as a friend." Many of the youngsters later went into law enforcement because of their positive attitude toward policemen and their experience of knowing Phil.
As a tribute to him, the square at 152nd Street and Lakeshore Blvd. was renamed Maher Square. A stone monument was placed in his honor from donations collected by the Waterloo Beach Homeowner's Association, neighbors and the school children. It reads:
"This memorial is dedicated to Patrolman Philip Maher in grateful appreciation for his many years of service to our community. Erected by his fellow citizens."
Officer Maher was survived by his wife of 24 years, Lydia, one son and four daughters, ranging from ages 7 to 23 years-old, four siblings, many nieces and nephews, and countless friends.
Philip Maher's name is inscribed on the National Law Enforcement Officers Memorial Wall in Washington D.C. Panel 32 E 25.