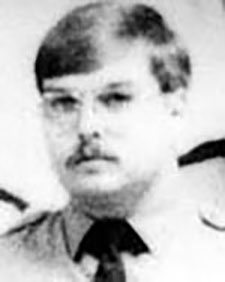 END OF WATCH:  October 29, 1978
Vermillion Police Department
Age: 24
Patrolman Smolka, along with two fellow officers, answered a disturbance call which involved a scuffle with a man who resisted arrest and had to be restrained, requiring great physical force and exertion. Upon returning to the station, Patrolman Smolka collapsed.
Three of Smolka's fellow officers performed CPR at the station and while enroute to Lorain Community Hospital. Hospital emergency personnel were unsuccessful in their attempts and he was pronounced dead at 2:15 a.m.
Officer Smolka graduated from basic police training at the top of his class. He was also attending police science courses at Lorain Community College and served in the United States Army from 1972 to 1975.
His sister-in-law stated, "He was as happy as a kid with a new toy." Lieutenant Mayer, said Smolka was conscientious, quiet and well-liked by fellow officers and did a good job.
Patrolman Smolka was survived by his wife, Joann, two brothers and a sister.
Francis Smolka's name is inscribed on the National Law Enforcement Officers Memorial Wall, Washington, D.C. panel 25, east wall, line 1.
By: Norm Drew, Greater Cleveland Peace Officers Memorial Society