Greater Cleveland Peace Officers Memorial Society
Keeping The Promise... to never forget our fallen heroes.
Honoring the service of fallen peace officers, ensuring that they are never forgotten and providing assistance and emotional support to their families. We serve Cuyahoga, Lake, Lorain, Geauga, Medina and Northern Summit counties.
Reserve Your Bus or Room: Canadian Police Memorial Trip – Sept. 28 – Oct. 1, 2018
The Greater Cleveland Peace Officers Memorial Society is coordinating a trip to the Canadian Police Memorial events Sept. 28-Oct. 1, 2018. Make your bus and/or room reservations today, and show solidarity with our Canadian officers.
Thank you, Harley-Davidson!
The 10th Annual Cops Ride on June 24 began with a  ceremony at the Police Memorial at West 3rd and Lakeside and was followed with a processional ride  to Lake Erie Harley-Davidson for food and entertainment. Thank you to Lake Erie Harley-Davison for donating at this year's Cops Ride!
Help Support the Police Memorial Expansion

The Greater Cleveland Peace Officers Memorial Society began with the donations of many corporations, banks, financial institutions and individuals from the Greater Cleveland area. Now we are in need to raise money to expand the memorial and add officers not yet listed on the memorial, but who died in the line of duty. Two additional pillars will be added in order to create the space to include these fallen heroes, and will allow space for those who we know will need to be added for police fatalities in the future.
We need to raise $200,000 to upgrade the Memorial and add the names of those officers. We are appealing to you to contribute generously to the expansion.
Support the memorial expansion by sponsoring a commemorative paver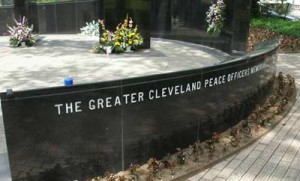 Show your support for the Greater Cleveland Peace Officers Memorial Society by sponsoring a Commemorative Paver brick for placement in the pathways at the Greater Cleveland Peace Officers memorial. This is a permanent tribute that offers the opportunity to show your family's or company's support to our fallen officers.
---