Greater Cleveland Peace Officers Memorial Society
Keeping The Promise... to never forget our fallen heroes.
Honoring the service of fallen peace officers, ensuring that they are never forgotten and providing assistance and emotional support to their families. We serve Cuyahoga, Lake, Lorain, Geauga, Medina and Northern Summit counties.
June 29, 2017: ESPN Cleveland "The Really Big Show Open"
Raffle proceeds and a portion of golfer fees go directly to charity . . . plus, we've got a shotgun shooting golf balls. It's good to be alive. Join us at Coppertop at Cherokee Hills!
Thank You Cleveland Browns!
These Cleveland Browns players took time out of their busy schedule during Police Memorial Week to show their support. The players expressed their appreciation of officers in these photos with GCPOMS and Thin Blue Line flags:
We are so thankful and appreciative of their support!
Joseph Mannion, President
Greater Cleveland Peace Officers Memorial Society
Officer David Fahey End of Watch: January 24, 2017
David had a remarkable conviction for his job as a police officer and it's invaluable purpose in society. He loved his city and was honored to be a "Brother in Blue." Having a passion for all things electronic, he derived great pleasure in enabling friends and family to enrich their lives through his knowledge of the electronic age. Read more...
Trooper Kenneth Velez, Ohio State Highway Patrol End of Watch: September 15, 2016
Trooper Velez was a devoted father of three children. An avid sports fan, "Kenny," as he was called by the many friends who knew him, enjoyed volunteering to coach for both his sons' baseball teams, and cheering for his daughter in her athletic endeavors. He was a huge fan of the Ohio State Buckeyes, Cleveland Browns, CAVS and Indians; and was a member of Sacred Heart Chapel in Lorain, Ohio. Read more...
What We Do
We Honor Service to the Community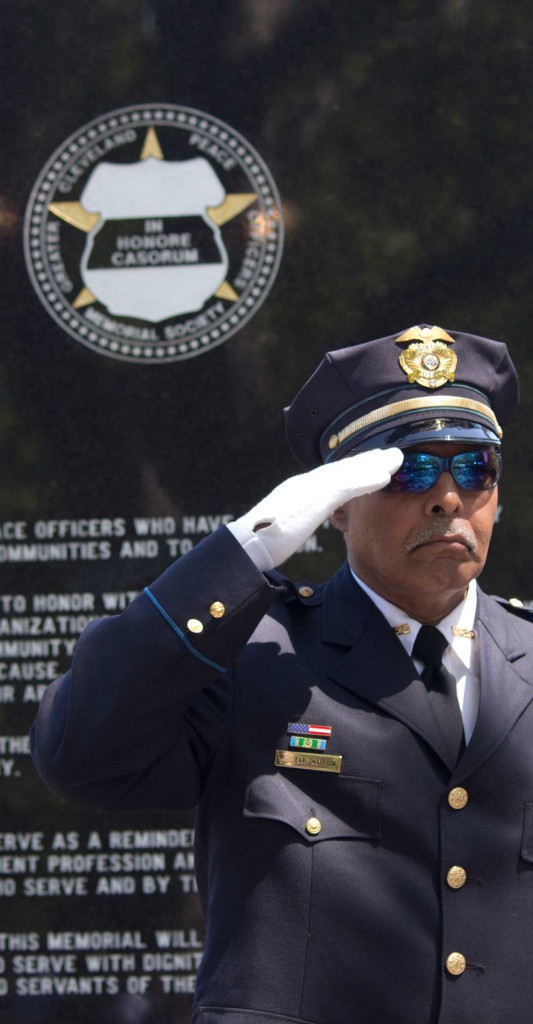 Each year in May, the Police Memorial Society remembers fallen officers during the Greater Cleveland Police Memorial Commemoration, a schedule of events for family, friends and the entire community.
The 32nd Annual Greater Cleveland Peace Officers Memorial Society Commemoration
will be May 13–21, 2017. Events include:
Greater Cleveland Police Memorial Parade
Greater Cleveland Peace Officers Memorial Service
Public Safety Fair & Expo: Exhibits and interactive displays by first responders on Saturday of the Commemoration.
Cleveland International Tattoo
Enjoy the stirring sounds and pageantry of the Pipes and Drums, marching bands, drill teams, dancers and choruses. A heart-pounding and high energy salute to our safety forces, our armed forces . . . our Country! At Public Hall on Saturday of the Commemoration. The 2017 Cleveland International Tattoo is Saturday, May 20.
In addition to the events described above, the Police Memorial Society also presents the following awards to outstanding law enforcement officers and members of the Greater Cleveland community who provide exceptional support to the Police Memorial Society and the law enforcement community:
Samuel H. Miller Lifetime Achievement Award
PO Anthony J. Johnson Memorial Police Officer of the Year Award
Patrolman Norman A. Drew Memorial Citizen of the Year Award
Lance Corporal Andrew W. Nowacki Memorial Veteran of the Year Award
GCPOMS President's Award
Information about nomination and award criteria...
We Support Families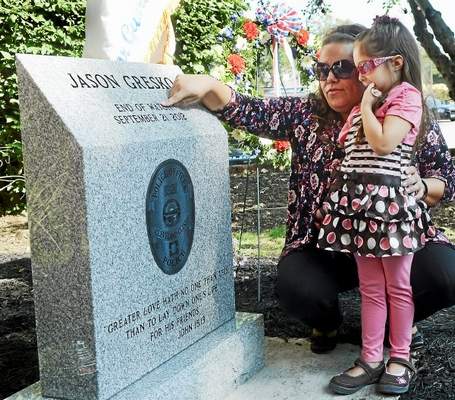 The Greater Cleveland Peace Officers Memorial Society provides financial assistance and ongoing emotional and practical support to the families of fallen officers. Thanks to support of our members and generous donors, the Police Memorial Society is able to provide financial assistance to families of fallen and injured officers to help.
We Advance Education for Law Enforcement
Additionally, the Police Memorial Society awards the Peter Lawer Memorial Scholarship each year to a police officer furthering his/her education, or a student pursuing a degree in law enforcement or a related field, and planning a career in law enforcement. The scholarship is awarded each May during the annual Greater Cleveland Police Memorial Commemoration.
Scholarship criteria...
---