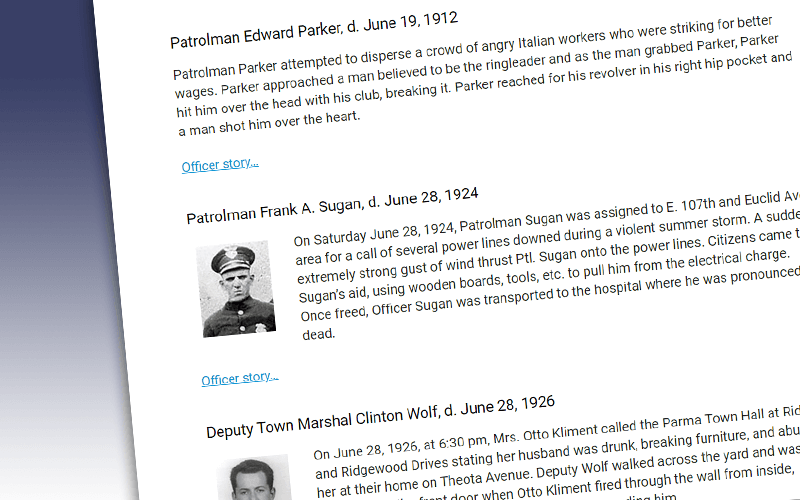 Remembering officers who have died in Junes past…. we have their stories from the oldest fatality, Patrolman Edward Parker d. June 19, 1912, to the most recent, Patrol Officer Wayne A. Leon, who died June 25, 2000.
Patrolman Edward Parker, d. June 19, 1912
Patrolman Parker attempted to disperse a crowd of angry Italian workers who were striking for better wages. Parker approached a man believed to be the ringleader and as the man grabbed Parker, Parker hit him over the head with his club, breaking it. Parker reached for his revolver in his right hip pocket and a man shot him over the heart.
Patrolman Frank A. Sugan, d. June 28, 1924

On Saturday June 28, 1924, Patrolman Sugan was assigned to E. 107th and Euclid Ave. area for a call of several power lines downed during a violent summer storm. A sudden extremely strong gust of wind thrust Ptl. Sugan onto the power lines. Citizens came to Sugan's aid, using wooden boards, tools, etc. to pull him from the electrical charge. Once freed, Officer Sugan was transported to the hospital where he was pronounced dead.
Deputy Town Marshal Clinton Wolf, d. June 28, 1926
On June 28, 1926, at 6:30 pm, Mrs. Otto Kliment called the Parma Town Hall at Ridge and Ridgewood Drives stating her husband was drunk, breaking furniture, and abusing her at their home on Theota Avenue. Deputy Wolf walked across the yard and was approaching the front door when Otto Kliment fired through the wall from inside, striking Deputy Wolf in the heart and mortally wounding him.
Deputy Sheriff Franklin J. Strohl, d. June 30, 1930

The deputy was passing a street car near the intersection of Cleveland and Olive Streets when a car made a left turn directly in front of him. Eyewitnesses said the impact hurled Deputy Strohl through the air, landing him on his back.
Patrolman Clarence T. Smith, d. June 6, 1939
He died in the line of duty on June 6 1939, as a result of injuries he received while performing his duties during a drug/liquor raid.
Patrolman Frederick D. Vacha, d. June 20, 1973
While the officers patrolled the East 89th Street and Buckeye Avenue area, they observed a male acting suspiciously. Saccany pulled the police car to the curb and Officer Vacha called out to the male. The male immediately opened fire on the officers striking Officer Vacha above the eye, immediately killing him.
Patrol Officer John Hubbell, d. June 4, 1979

As they approached the vehicle on foot, officers observed their suspect, Anthony Lemay working on the car in the driveway. Officer Hubbell asked the suspect to identify himself and after confirming the suspect was Anthony Lemay, Hubbell informed him he was under arrest.  Hidden near the bumper of this auto was Anthony Lemay's .38 caliber revolver. Before officers could arrest Lemay, he quickly drew the hidden weapon and fired several rounds at the officers.
Patrol Officer Wayne A. Leon, d. June 25, 2000

Officer Leon radioed in a routine traffic stop at E. 40 St. & Community College. He was unaware the driver, Quisi Bryan had a history of violence involving weapons and was wanted for violating parole. Bryan stopped in a gas station lot and quickly exited his vehicle. As Leon approached, Bryan turned and fired a fatal shot that struck Officer Leon in the side of the face and lodged in his spinal cord, ceasing all functions.