Remembering officers who have died in Aprils past…. we have their stories from the oldest fatality, Night Watchman Rupert Becker, d. April 10, 1916, to the most recent, Patrol Officer David Smith, d. April 15, 1998.
Night Watchman Rupert Becker, d. April 10, 1916
In the early 20th Century, the Village of Amherst was a place to get away from the congestion of city life in Cleveland. The well-to-do would come and stay at the Amherst Hotel and enjoy the serenity of the area.
Night Watchman John H. Gates, d. April 18, 1916

On April 18, 1916, Medina Village Watchman, John Gates, 60 years old, went to work like he did so many other nights, fulfilling his obligation to make sure the businesses in village were secure. At some point during his rounds and during the "deserted hours of the morning" Gates apparently sat down to rest on a ledge in front of E.P. Hartman's Grocery Store facing the historic square in Medina.
Detective Sergeant David H. Barnes, d. April 28, 1920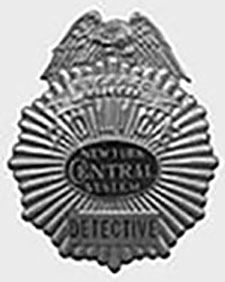 In the early 1900's the Elyria Police Department maintained a "Bum Cell". As many as thirty to sixty transients a day would be rounded up from the railroad yards, and incarcerated for the night. In the morning they would be sent on their way with orders to leave town. Police found this process to be very effective in keeping the burglaries, robberies, assaults, and thefts in check.
Patrolman Elmer Sprosty, d. April 21, 1921 On October 16, 1920, Elmer Sprosty was appointed to the Cleveland Police Department as a patrolman. Felled by a gunman's bullet on April 21, 1921, he was a policeman for only six months and five days.
Patrolman Samuel Kilbane, d. April 19, 1923
Samuel Kilbane was born in Northern Ireland in 1875 and came to Cleveland in 1897. In 1908 Samuel became a member of the Cleveland Police Department and was assigned to the Mounted Unit.
Patrolman Charles J. Frantz, d. April 14, 1925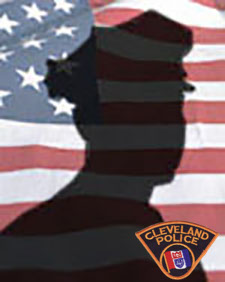 Patrolman Frantz was a motorcycle traffic officer assigned to Cleveland's ninth precinct. On Tuesday, April 14, 1925, at 3:00 pm, he was dispatched to Ridge Road and Flowerdale Avenue to investigate an auto accident.
Patrolman Edwin M. Janes, d. April 17, 1926
Patrolman Edwin M. Janes, died in Charity Hospital from injuries suffered when his motorcycle crashed into an automobile. Janes was fatally injured at South Woodland and Montgomery Roads. He was thrown head-first against the automobile, fracturing his skull. This is all the information obtained from two local newspapers and the police report.
Patrolman William G. Borgman, d. April 20, 1926
Patrolman Borgman was shot and killed when he responded to the sounds of gunfire coming from a store at the corner of East 14th Street and Euclid Avenue. Unbeknownst to Patrolman Borgman, a detective had been stationed at the store following a series of robberies. An armed man entered the store and, when confronted by the detective, began to struggle and opened fire. When Patrolman Borgman arrived he ordered the men to stop firing, but the suspect in turn fired at Patrolman Borgman, striking him in the chest. The suspect was struck five times and killed. The detective was shot in the leg and wounded.
Patrolman Joseph Ternansky, d. April 1, 1936
On April 1, 1936, Officer Joseph Ternansky was found face down in the rear parking lot of 748 Eagle Avenue. Investigation revealed he was shot and killed with a .32 caliber revolver.
Patrolman Kenneth Houser, d. April 2, 1969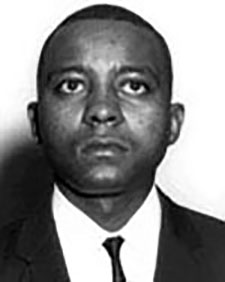 Patrolman Kenneth Houser was appointed to the Cleveland Police Department on September 1, 1967. After graduating from the police academy he was assigned to basic patrol in the Fourth District.
Detective John Apanites, Jr., d. April 7, 1969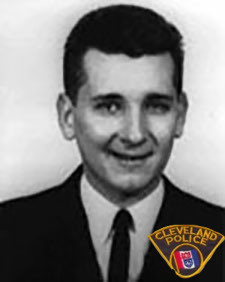 John Apanites Jr. became a Cleveland patrolman at the age of twenty-five and was the son of Cleveland Police Lieutenant John E. Apanites. He resigned from the police force to become an F.B.I agent returning to the police department after six months.
Patrolman Tom Hakaim, d. April 3, 1971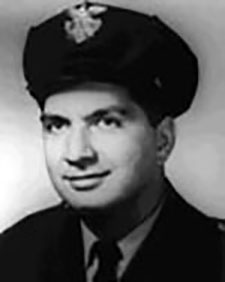 On April 3rd, 1971, Patrolman Hakaim was assigned to the police radio room at 2001 Payne Avenue. At about 1:50 pm, Patrolman Thomas McLaughlin, #373, also assigned to the radio room, apparently went berserk and began firing his .38 caliber service revolver in the direction of Patrolman Hakaim and Sergeant Friedland. After felling both officers, McLaughlin picked up Friedland's service revolver and continued to fire at the two downed officers and at random around the radio room.
Patrolman William N. Shapiro, d. April 26, 1974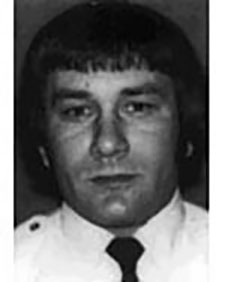 Bill grew up in a law enforcement family and was quite proud of his father, who was a career Federal Bureau of Investigation Agent. Bill started his law-enforcement career as a civilian employee for the Federal Bureau of Investigation. Wanting stability for his wife and children, Bill opted for the Cleveland Police Department over an out-of-town transfer by the F.B.I.
Parole Officer Robert A. White, d. April 27, 1979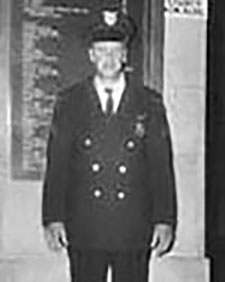 Robert White was known as a man of many attributes: a devoted husband, father and public servant. Following his honorable discharge from three years duty in the United States Navy, he began his career in law enforcement with the Cleveland Police Department. Robert served twenty-five years of distinguished service, and retired as a Lieutenant.
Patrol Officer David Smith, d. April 15, 1998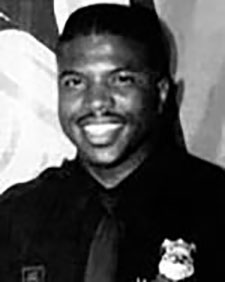 David Smith began his career with the City of Cleveland on June 1, 1993. On April 15, 1998 after exiting a nightclub, off duty officer David Smith was confronted by a suspect brandishing a .44 caliber hand gun. At the time, Officer Smith was accompanying a civilian who ran for cover while Smith drew his service weapon. The suspect fatally shot Officer Smith before he could take action.