Twelve area officers have died in October in years past. We have their stories, from the oldest fatality, Patrolman Walter Pruehs in 1920, to the most recent EOW, Patrolman George M. Brentar, in 2007.
Patrolman Walter Pruehs, d. October 17, 1920
Walter J. Pruehs was a patrolman for five years attached to the flying squad unit, when he was shot and killed by three armed gunmen on October 18, 1920.
It was found the three suspects were also wanted in connection with the burglary of Ott Cut-Rate Pharmacy at 3661 Fulton Road, where burglars carried away a three-hundred-pound safe containing six hundred dollars in cash and 100 postage stamps.
Patrolman Michael J. Hahnel, d. October 20, 1924
On Friday, October 17, 1924, Patrolman Michael Hahnel and Patrolman Frank Dietrich were painting stop signs at S. Moreland and Lee Road. A speeding automobile, lacking due caution, was halted by the two officers. The officers did not know the two men in the car had forced a man from his car at W. 105th near Madison, proceeded to a gas station at W. 68th where they had stolen sixty dollars from the attendant.
After placing the men under arrest, Officer Hahnel jumped into the back seat and Officer Dietrich hopped on the running board, and they started for the Shaker Heights Police Department. Both officers got a good look at the man who turned around and shot Hahnel in the stomach, the bullet stopping near his spine. The robbers gave no pity. They shot Hahnel in cold blood then threw him in a field to die.
Patrolman William F. Burmeister, d. October 20, 1935
When Patrolman Burmeister reported for duty on October 20, 1935, he was to escort a funeral procession which had left Barberton and was making its way through Cleveland. Unfortunately, Burmeister would never complete his tour of duty that day. Burmeister, while on duty, was involved in a traffic accident and was to become Cleveland's two hundred fiftieth traffic fatality.
Patrolman Frank Humr, d. October 29, 1965
On October 29, 1965, around 7:10 pm, Patrolman Humr was patrolling the Puritas Road area on his 1963 Harley Davidson police motorcycle and began to pursue a speeding motorist traveling westbound on Puritas at Valleyside Avenue. A 1959 Oldsmobile, traveling southbound on Valleyside made a left hand-turn in front of Humr. The motorcycle collided with the auto, throwing the officer to the pavement, killing him.
Police Chief John R. Bohl, d. October 25, 1966
When Chief Bohl arrived on the scene of an accident, he discovered the crash had involved two vehicles that had collided head-on with one another. Five passengers in the vehicles were dead at the scene. A sixth died later at the hospital. Five others were injured. While assisting at the accident scene, Chief Bohl was stricken with a heart attack. Efforts to revive him by other officers on the scene were not successful.
Sergeant Robert W. Bennett, d. October 25, 1972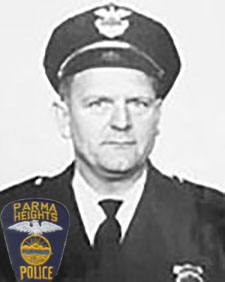 Death, while a tragedy, is comforted knowing a man who was also a dedicated police officer and devoted husband and father gave his life in defending his friends, family and community. Sergeant Bennett, a 44 year old veteran police officer, gave his life in the performance of his duty.
Patrolman Hubert S. Smykowski, d. October 5, 1976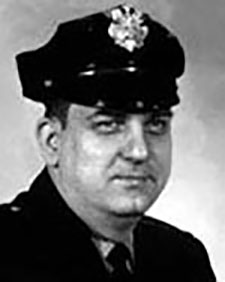 Patrolman Smykowski and several other officers a hit-and-run suspect to a home on East 126th Street and Miles Avenue. The suspect ran up on the front porch and jumped through a picture window. Smykowski and the other officers followed, finding the suspect hiding in a closet. After a brief struggle, the suspect was handcuffed. While walking the suspect to the cruiser, Smykowski collapsed and was rushed to Marymount Hospital where at 6:42 am, he died as a result of a massive heart attack.
Patrolman Francis Smolka, d. October 29, 1978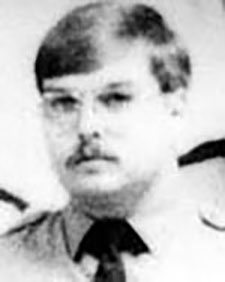 Patrolman Smolka, along with two fellow officers, answered a disturbance call which involved a scuffle with a man who resisted arrest and had to be restrained, requiring great physical force and exertion. Upon returning to the station, Patrolman Smolka collapsed.
Patrol Officer Anthony J. Johnson, d. October 21, 1981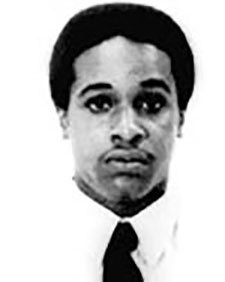 Patrol Officer Johnson and his partner John R. Hyland responded to a alarm at the National City Bank branch at 16614 Harvard Avenue. Upon arrival, one of the robbers, Leonard Jenkins came out of the bank shooting. In an exchange of gunfire, Tony was shot in the head with a .357 magnum bullet and suffered multiple skull fractures and Officer Hyland suffered a broken leg. Leonard Jenkins was hit in the chest and spine paralyzing him. Lester Jordan, Jenkin's accomplice was not hurt and was arrested. Tony was transported to Brentwood Hospital where he underwent hours of surgery and was put on life support system. He died that night.
Patrol Officer Ernest C. Holbert, d. October 27, 1987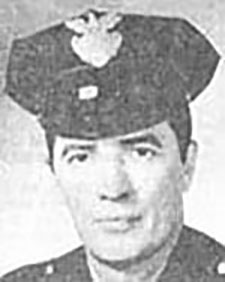 Cleveland Police Officer Ernest Holbert and his partner were dispatched to Buckeye Road and East Boulevard to investigate a routine traffic accident. At the beginning of their investigation, officers placed both drivers involved into the rear of their police vehicle. Nearing completion of the accident report, one driver was permitted to leave. The at-fault driver was arrested for operating a vehicle while under the influence and was issued a citation for the accident. This driver still in the rear seat of the police vehicle stated, "I'm not going to jail," and pulled a gun.
The armed driver fired a shot striking Officer Holbert in the right forehead. In the years following Holbert's head injury, he underwent four major operations in which portions of his brain were removed. His physical and mental condition deteriorated until he died in 1987.
Patrol Officer Alcee S. McCray, d. October 14, 1989
Officer Alcee McCray had been making his rounds of the first floor of C.M.H.A. Building at 1791 West 25th St when 31 year old Willis Wright accosted him.
Officer John Perry came upon the two, words were exchanged and Officer McCray was shot and fatally wounded. After shooting McCray, Wright then shot Perry in the face. As he fell, Officer Perry returned fire, striking Wright four times and wounding him. Alcee McCray was taken to Lutheran Hospital where he died at 3:43 a.m. on October 14, 1989. Officer John Perry was treated and confined at Cleveland Metropolitan General Hospital.
Patrolman George M. Brentar, d. October 10, 2007
Patrolman George Brentar, a 22-year veteran of the Euclid police force died Wednesday, October 10, 2007 when his car slid into a pole and caught fire on an entrance ramp to Interstate 90. He had observed a speeding motorist on North Lakeland Boulevard, just north of I-90, and was attempting to catch up to the vehicle when his car hydroplaned and the right rear end hit a pole. The car immediately burst into flames with Officer Brentar trapped inside. Two off duty Erie, Pa. police officers on their way to Cleveland observed the crash and stopped, but were unable to get close enough to pull Brentar from the burning car.