Remembering officers who have died in Mays past…. we have their stories from the oldest fatality, Patrolman Michael Kick d. May 5, 1875, to the most recent, Investigator Jason D. West, who died in 2007.
Patrolman Michael Kick, d. May 5, 1875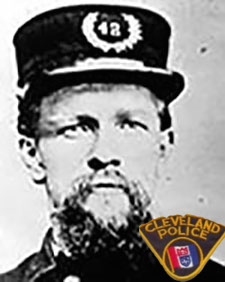 A gang of six, recently arriving from out of town had taken up lodging at the "Wacht Am Rhein" saloon located at the south end of Pearl Street which is now W. 25th. The gang being suspected of burglaries was placed under surveillance and two days later on May 13, 1875, a stake-out was initiated to capture them.
Patrolman John Shipp, d. May 6, 1900
Appointed on December 2, 1892, Patrolman Shipp was a 7-year veteran of the Cleveland Police Department. Patrolman Shipp served the majority of his tenure in the Third District and was described by his superiors and peers as an officer with a great deal of courage and dependability. An officer who could be relied on to accomplish whatever he was assigned. Nonetheless, there does not exist a single word or statement with which to best describe an officer who unselfishly makes the greatest sacrifice of his profession…
Sergeant Charles H. Goetz, d. May 6, 1916
Sergeant Charles H. Goetz was appointed to the Cleveland Police Department on January 1, 1899. On March 1, 1913, he was promoted to Sergeant. On Saturday, May 6, 1916, at 1:05 a.m. Sgt. Goetz was killed in the line of duty when he was struck by a car. Goetz lived with his family at 1612 Castle Avenue, Cleveland and was the 13th Cleveland Policeman killed in the line of duty.
Patrolman Dennis Griffin, d. May 14, 1923
Friday, May 11, 1923, Patrolman Dennis Griffin was detailed to watch for a suspect at a garage on Elgin Avenue. At 6:30 am, Patrolman Griffin was relieving Patrolman Henry Hughes when Griffin spotted a "machine" that fit the description of one sought by the police. Griffin and Hughes arrested the driver, J. L. Whitfield. Whitfield was wanted for questioning in connection with the theft of thousands of spark plugs from the Reflex Ignition Company located at W. 105th & Lorain. He also was thought to have participated in two other hold-ups in East Cleveland…
Patrolman Roy R. Nightwine, d. May 11, 1924
On March 1, 1920, Roy Nightwine became a Cleveland Policeman and was assigned to the motorcycle unit. One day while on motorcycle patrol, Officer Nightwine was thrown off his motorcycle near E. 140th and Sylvia, receiving only minor injuries. A year later, Nightwine would again fall off his motorcycle at E. 140th & Sylvia, but he had no way of knowing the end it would bring…
Patrolman Michael B. Beuerlein, d. May 20, 1926
It was Sunday, May 16, a cool evening in the spring of 1926. Twenty-six year old motorcycle patrolman Michael Beuerlein patrolled the village of Parma on his Harley Davidson motorcycle as the sun began to set over Lake Erie. Officer Beuerlein 's thoughts were not entirely devoted to his job but skipped occasionally to thoughts of his upcoming marriage on June 15 to sweetheart, Edna Tiedjan, daughter of Parma's Justice of the Peace…
Patrolman George J. Buttermore, d. May 24, 1926
Patrolman George Buttermore was instantly killed and Patrolman Albert Schley seriously injured when their motorcycle and side car struck a curbstone at Torrington Road and S. Woodland. Schley, who was driving, swerved to avoid hitting a truck. Buttermore was thrown out, at which time his head struck the pavement. Schley was taken to Mt. Sinai Hospital. No other information was available from local papers and police reports…
Patrolman Raymond H. Griffin, d. May 30, 1938
Patrolman Raymond H. Griffin was killed off duty in an apparent robbery on Monday, May 30, 1938, at about 3:15 a.m. He completed his last tour of duty on Saturday, May 28, 1938. Patrolman Griffin came from a large family. He was the youngest of six children. He had two brothers and three sisters. His oldest brother had been killed in an automobile accident, and two of his sisters had died after short illnesses. Griffin had been married for only thirteen months at the time of his death. Mrs. Griffin was visiting relatives in Ecorse, Michigan when her husband was killed. Griffin was born in Cleveland, attended St. Aloysius Parochial School, then East Technical High School where he participated in football, basketball, and track. He also was active in student organizations. After graduation, he attended Cleveland College for three years and had a reputation of being a good student…
Patrolman James Goodwin, d. May 4, 1942
Officer Goodwin was appointed to the Cleveland Police Department on December 6, 1926, and was assigned to the motorcycle unit. On April 30, 1942, at 6:10 pm while on duty at Cleveland's War Bond Parade Officer Goodwin was riding eastbound on Euclid Avenue near East 100th Street when he attempted to pass another motorcycle operated by Mr. Edward Waldman. Waldman was a volunteer helping to form the parade at University Circle. As Goodwin neared Waldman's motorcycle, Waldman struck the rear wheel of Goodwin's bike causing him to swerve into the path of an oncoming automobile.
Patrolman Eugene Stinchcomb, d. May 12, 1952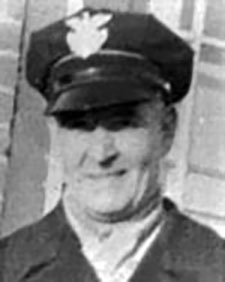 Patrolman Stinchcomb was a mounted officer assigned to the East side working traffic duty on the corner of East 105th Street and Euclid Avenue. During the course of his duties, he was called to quell a disturbance aboard a CTS bus…
Patrolman Joseph Haydu, d. May 19, 1956
Patrolman Haydu was a ten year veteran of the Cleveland Police Department. During his youth in Pennsylvania, he knew he was destined for a career in police work. Haydu was an avid reader of detective stories, researching through advertisements what was needed to become one of the detectives he read so much about. He was a hardworking man helping to support his family by working the coal mines of Pennsylvania. His athletic skills garnered him a football scholarship, which he turned down. Haydu chose to serve his country in World War II, performing a tour of duty in the Philippines with the Navy.
Patrolman Edmund G. Smith, d. May 4, 1957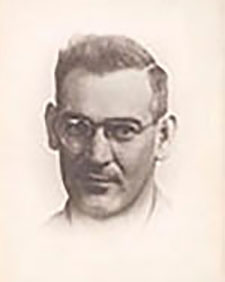 On May 4, 1957, Patrolman Smith was dispatched to a residential disturbance. Apparently, the female homeowner was calling from a neighbor's home. The female advised, Mr. Walter Byomin called her earlier wanting to see her. The female declined, and now, Walter Byomin and his roomer, Onus Redwine were at the residence.
Patrolman Steve J. Huber, d. May 11, 1967
On May 11, 1967 at 5:00 am, Patrolman Steven J. Huber was shot to death. He joined the Cleveland Police Department in 1965 and was a member of the so-called "green beret" unit, a special police task force. The crime stopping task force was organized in March 1966, with fourteen men. Patrolman Huber volunteered for the unit one month prior to his death and was the first member of this unit to be killed in the line of duty.
Patrolman William A. Nagy, d. May 14, 1971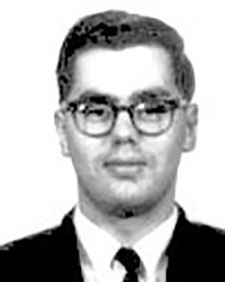 The danger of being a police officer does not stop at the end of an eight hour shift. A police officer is obligated to perform his duty twenty-four hours a day. This obligation extends to making the ultimate sacrifice of laying down one's life. This is how Patrol Officer William Nagy lost his life.
Patrolman Phillip P. Maher, d. May 29, 1975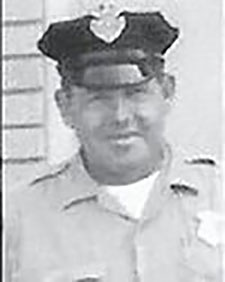 Officer Maher proudly served the City of Cleveland, Ohio for over 25 years. He was appointed on March 3, 1949 and assigned to the 6th District. He was a WWII veteran, serving in Europe and a member of the Fraternal Order of Police. His beat was 152nd Street and Lakeshore Blvd. and also 185th Street. In the summer he was stationed at 105th Street and St. Clair Avenue.
Patrolman Gary A. Paster, d. May 9, 1986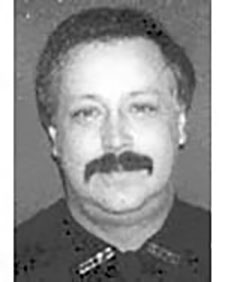 Gary Allen Paster wanted to be a police officer his whole life. His dream came true when he was hired and sent through the academy by the Village of Northfield. Shortly after the academy, Gary was promoted to Patrolman by the Village, and then he was offered a position with the City of Macedonia
Investigator Jason D. West, d. May 26, 2007
Friday May 25, 2007 at approximately 2146 hours Investigator Jason West age 31, received a radio assignment to respond to a fight in progress on Altamont Avenue. West followed by another cruiser, approached the location from a westerly direction. A third cruiser approached the location from an easterly direction. All officers observed a vehicle that had been traveling in a westbound direction, suddenly reverse its direction of travel and back into a driveway.