Remembering officers who have died in Marches past…. we have their stories from the oldest fatality, Patrolman William P. Armstrong, d. March 9, 1919, to the most recent, Patrol Officer James Kerstetter, who died in 2010.
Patrolman William P. Armstrong, d. March 9, 1919
Patrolman William P. Armstrong, was appointed to the Cleveland Police Department on June 20, 1915. He was a graduate of South High School and his education prompted police authorities to urge him to work in the office. Patrolman Armstrong felt the office work was not exciting enough…
Patrolman August E. Dyke, d. March 24, 1921
August Dyke was appointed to the position of Patrol Officer on February 15, 1917 and was reputed to be one of the "best shots" in the department…
Patrolman Albert Flemke, d. March 22, 1928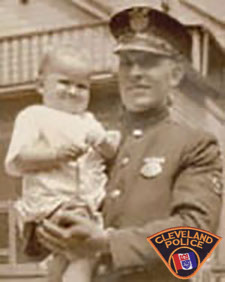 On March 22, 1928, Patrol Officer Albert Flemke of the Motorcycle Unit reported for duty at 2300 hours. On that particular day, Officer Flemke was assigned to traffic duty. While heading westbound on Woodland Avenue, nearing the 6100 block, a Cadillac driven by Fletcher Sharp, traveling north on East 61st Street failed to stop for an emergency vehicle and collided with Flemke's motorcycle. Officer Flemke sustained a fractured skull and a broken right leg and was pronounced dead on arrival at St. Luke's Hospital. The driver, Fletcher Sharp was arrested and charged with manslaughter.
Patrolman Carl H. Sherman, d. March 6, 1929 Patrol Officer Carl Sherman was a 9 year veteran of the Cleveland Police Department, and was assigned to the Ninth Precinct Station at West 25th and Althen Avenue. Officer Sherman was also a decorated officer, honored for acts of Exceptional Bravery in rescuing the lives of 25 people during a building fire…
Patrolman Herman Pahler, d. March 8, 1933
On March 6, 1933, Patrolman Herman Pahler was directing traffic in front of St. Mary's Catholic School on when he was hailed by a truck driver, who spotted Herman Klink approaching with a rifle going down West 38th Street. Immediately Klink fired at Patrolman Pahler, who fell in the middle of the street's intersection, making the unfortunate officer the third victim of Klink's shooting spree. Before Klink would finish his scourge, three would die and eight would lie wounded. Patrolman Pahler would die the next day from his injuries.
Patrolman George C. Effinger, d. March 20, 1933
Patrolman George Effinger died at St. Alexis Hospital of a bullet wound to one of his lungs. He had been a member of the police department about one year.
Marshal Otto Jirecek, d. March 31, 1939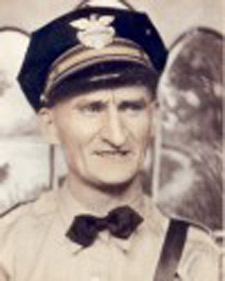 At 11:00 p.m., Marshal Jirecek and Deputy Charles Linert came on duty. Marshal Jirecek being on call for twenty-four hours stopped the car to get into the back seat. Deputy Linert slid over to relieve Jirecek and started to pull the door shut when their vehicle was fiercely struck from behind. The police car spun, overturned and the gasoline tank exploded, immediately engulfing the vehicle in flames. Linert managed to scramble out of the car before it flipped, escaping with a bloody nose and a wrenched back. He stated, "I tried to get back to the car and pull Otto out, but I could not even get close. The heat was enough to scorch you ten feet away."
Patrolman Otto J. Ziska, d. March 31, 1940
Officer Otto Ziska joined the Cleveland Police Department on August 16, 1918 and was assigned to the 5th Precinct. He had previously served with the city park police force. On October 1, 1922 he was reassigned to 5th Emergency Squad. On May 15, 1929 his squad received a call to respond to the Cleveland Clinic for an explosion and fire with numerous dead and injured.
Patrolman George Kirk, d. March 30, 1944
Patrolman George Kirk began his career with the Lorain Police Department on March 13, 1919. He died on March 30, 1944, when he fell into an open elevator shaft.
Police Chief Henry L. Walton, d. March 12, 1950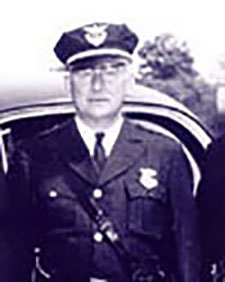 Henry Lloyd Walton began serving the citizens of Fairview Park in 1936 when he was sworn in as a Constable with the village. In 1940 he was elected the town's first Chief of Police. He was a WWI veteran, member of the Fraternal Order of Police Lodge and a thirty-five year resident of Fairview Park.
Lieutenant Joyce Robbin Moore, d. March 22, 1955 Lieutenant Moore, was instantly killed when he picked up a live high-tension wire carrying 4600 volts. The Lieutenant was answering a call of a downed wire on Maple Street. The wire was blown down by very high winds and Moore apparently thought the line was dead.
Patrolman Edgar Nagie, d. March 26, 1958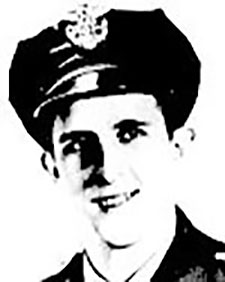 On March 26, 1958, at 9:17 p.m., Patrolman Joseph Zambramski and Patrolman Edgar Nagie responded to 1287 Winslow Avenue where a male was threatening his wife with a gun. Upon arrival at the Williamson residence, Nagie and Zambramski failed to find the husband. Officers searched for 30 minutes when an informant advised Williamson was at an address on Washington Avenue.
Patrolman Robert B Woodall, d. March 10, 1971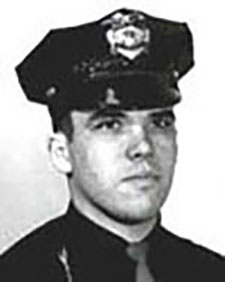 March 10, 1971, Officer Woodall was in area of the Oberlin Reservoir when Woodall's cruiser ran off the icy road and slid broadside into a tree. Dispatch lost contact with Woodall at 5:10 am, while he was on patrol. After a five minute wait, three cruisers were dispatched to search for him. At 6:23 am, officers located Woodall and his vehicle. Woodall was pronounced dead on arrival at Allen Memorial Hospital.
Patrolman Stephen M. Kovach, d. March 11, 1984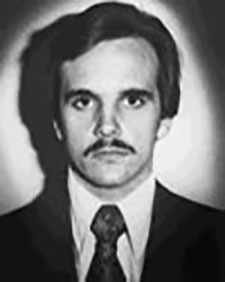 On September 3, 1977, Stephen M. Kovach was appointed to the Cleveland Police Department and at the time of his death he was assigned to the Third District. His partner was Patrolman Dave Rutt. Officers Kovach and Rutt were partners for nearly five years.
Patrolman Jeffrey B. Olson, d. March 15, 1989
Jeffrey B. Olson was born in Pittsburgh, Pennsylvania on July 31, 1952. He lived in Wadsworth, Ohio, for many years and was a 1970 graduate of Wadsworth High School, where he was a member of the varsity baseball team. He graduated from Kent State University in 1975 with a degree in Law Enforcement Administration.
Patrolman Thomas J. Smith, d. March 9, 1993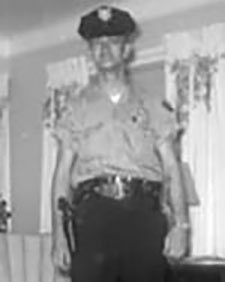 During the first day of the Glenville riots in July, 1968, Cleveland Patrolman Thomas J. Smith was nearly shot to death in a shoot-out with Black Nationalist snipers. He was instantly paralyzed from the waist down as the bullets hit. His life changed forever at 33.
Patrolman Derrik M. Lanier, d. March 2, 1996
Officer Derrik Lanier, an off duty police officer for the Cuyahoga Metropolitan Housing Authority, was working his part time job in a tavern located at 9600 Madison Avenue in Cleveland when he was shot in the back and killed on March 22, 1996.
Patrol Officer Derek W. Owens, d. March 1, 2008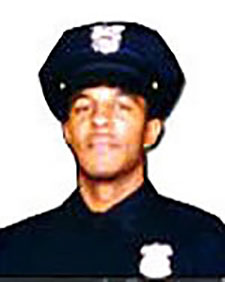 Officer Derek W. Owens was not a large man by conventional standards, but his heart and personality were much larger than men three times his size. Previous to his becoming a member of the Cleveland Division of Police, Derek worked as a probation officer for Cuyahoga County in the Juvenile Division, where he attempted to counsel and advise young men of the wrong paths that their lives were on and what they needed to do to change to lead productive lives.
Patrolman James Kerstetter, d. March 15, 2010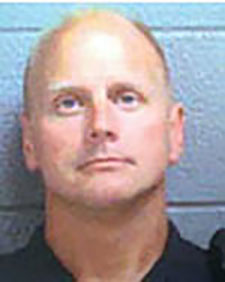 Patrolman James Kerstetter was shot and killed after responding to a call at a home on 18th Street. A mother had called 911 to report that a neighbor had exposed himself to her child and kicked in a window in her home.