Remembering officers who have died in November and December in years past…. we have their stories from the oldest fatality, Watchman John Osborne, d. December 1, 1853, to the most recent EOW, Sergeant Michael W. Muzychenko, d. November 25, 1997.
November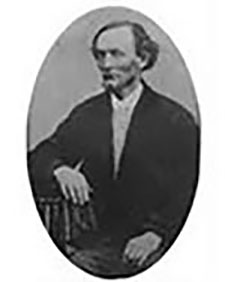 Village Marshal Spooner C. Crapo, d. November 11, 1905
Following the U.S. Civil War, train hopping became a common means of transportation as the railroads began pushing westward, especially among migrant workers. Additional hazards included being jostled off the train at high speeds, or being attacked by other train hoppers, who were ex-cons, and violence was not uncommon among the transient population.
On the evening of Saturday, November 11, 1905, at 8:00 PM, Crapo age 68 was performing his duties in the rail yard, chasing some kids who were trying to jump a boxcar. He was often found giving his full attention to this area of enforcement. During the foot chase, he stepped out on the next track. Partially deaf, he was struck by a train, approaching from the opposite direction. He died instantly.
Patrolman Leroy E. Bouker, d. November 28, 1912
On November 27, 1912, at 10:10 pm, Patrolman Leroy E. Bouker of Cleveland's Second Precinct was shot and killed as he attempted to capture three men who just robbed William S. Bracken's meat market at 1648 St. Clair Avenue. Patrolman Bouker was the 11th Cleveland Police Officer killed in the line of duty.
Patrolman Edward M. Meany, d. November 29, 1916
On the night of November 29, 1916, Patrolman Meany and Patrolman Gilmore were looking for men reportedly stealing chickens from the property of 1357 on West 73rd Street.
Upon arrival, Officers proceeded to the chicken coop to check things out. As Patrolman Meany exited the chicken coop, he was shot in leg with a high powered rifle. The bullet severed an artery, and Meany bled to death before he could be conveyed to a hospital.
Patrolman Frank J. Koran, d. November 26, 1921
On Friday, November 25, 1921, at midnight, while on foot patrol at E. 40th Street and Quincy Avenue, Patrolman Frank J. Koran and his partner witnessed three subjects robbing two citizens. As officers approached, the suspects fled on foot. Officers chased the suspects into a nearby yard with Koran entering the front while his partner circled around to the back.
While searching for the suspects, Koran was ambushed and gun fire was exchanged. Koran was shot eight times and died almost instantly.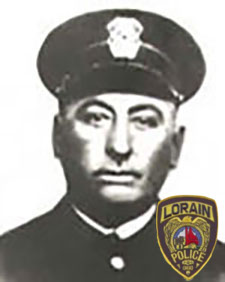 Patrolman Charles C. Deal, d. November 6, 1925
On November 6 1925 at 7:00 p.m. Patrolman Deal was assigned to investigate an accident and direct traffic near the Lorain-Ashland railroad crossing on Elyria Lorain Road. A garage man positioned the wrecked car in a ditch so it could be pulled out and at this point, Officer Deal halted the traffic. Several cars had stopped when a car came speeding down the road, passing the stopped automobiles. Witnesses advised the car came at such a high rate of speed Deal had no chance to jump for his life. After hitting Deal, the driver turned off his lights and headed north for Lorain.
Fradley, the garage man ran to the first car Officer Deal had stopped and asked the driver to follow the car and try to obtain the license number. The driver said, "Nothing doing." Fradley then asked the next five cars to pick up Officer Deal and take him to the hospital. Everyone refused. Finally a car was commandeered and the officer was taken to St. Joseph's Hospital where he was pronounced dead.
Detective Edward Butler, d. November 3, 1929
Robert Triplett was known as the "Chicago Killer." He was wanted for murdering his previous wife and girlfriend and it was believed he would have murdered his present wife. On November 2, 1929, around 6:30 pm, Sergeant Emil Ziegler and his squad were called to 6106 Quincy Avenue by Mrs. Triplett, who feared her husband, Robert was going to kill her for leaving him the day before. When Ziegler and his men arrived at the Quincy Avenue tailor shop they were met by the proprietor, George Chapman, seamstress, Jimmie Lee Clemes, and delivery boy Willie Nunery.
They had not heard of anything going on in the neighborhood so Ziegler went next door to phone headquarters while Detectives Butler and Clark walked down the sidewalk in front of the tailor shop.
As they walked, they spotted a man later learned being, Robert Triplett leaning against a pole with his hands in his pockets. When they asked what he had in his pockets, the man did not respond. As Butler proceeded to "frisk" him, the man brushed him off and pulled a revolver from his pocket. The man ran towards the front door of the tailor shop and Butler ran after him. As they struggled in front of hundreds of shoppers, Triplett got away and shot at Clark but missed. Clark returned fire but also missed. Triplett ran into the tailor shop and into an alcove with Butler following. Detective Clark heard two shots followed by Butler yelling, "He got me!"
Patrolman Roy Buckner, Jr., d. November 11, 1968
On October 13, 1968, Patrolman Buckner was assigned to escort the fire trucks from the station at East 105th Street and Superior Avenue on all runs. This detail was set up because fire department personnel had come under attack with rocks and bottles as well as gunfire connected with the riots that had taken place during the summer months.
At 12:30 a.m. that day, Patrolman Buckner, riding a police motorscooter, was escorting the fire trucks on East 105th Street enroute to a call. One of the fire engines swerved to the left to avoid an open manhole. This action caused Buckner to swerve further left to avoid the fire engine. Buckner's scooter hit a parked truck and a second vehicle, throwing the officer to the pavement. Patrolman Roy Buckner was taken to Mt. Sinai Hospital, where he died of his injures on November 11, 1968.
Detective Sergeant William A. Prochazka, d. November 10, 1975
Sergeant William A. Prochazka was shot and killed about 1:30 p.m. when he surprised three men attempting to rob the Blonder Company store across from Southgate Shopping Center. Officers were unaware three men armed with three pistols and a shotgun entered Blonders moments earlier, ordering the six employees and five customers into a rear washroom hidden from view by a folding, leather door.
Officer Prochazka entered, and, seeing no one, walked to the rear and opened the leather door. One of the men shot him in the neck without warning and all three men ran out the rear door. Officer Toth heard the shot and ran in to find the Sergeant on the floor, unconscious.
Patrolman Aubrey R. Williams, d. November 10, 1975
On Election Day November 7, 1989, a member of the Board of Election contacted the North Olmsted Police Department requesting a policeman be assigned to direct direct traffic at a polling station on Clague Road. There were no North Olmsted Policemen available for this detail at which time Auxiliary Aubrey Williams was contacted. The day was rather dismal with poor visibility. About 1 1/2 hours into the detail, Auxiliary Aubrey was hit by a car and severely injured. He died enroute to the hospital.
Sergeant Michael W. Muzychenko, d. November 25, 1997
While working as the shift supervisor on the 11-7 shift, Sgt. Mike Muzychenko went into the city jail to assist other officers who were having trouble with an intoxicated female prisoner. While attempting to handcuff the female, Mike suffered a fatal heart attack.
He was a man of many smiles and kind words. Mike was always there for his men under his command, be it a call for service or someone to talk to if a personal problem was troubling them.
December
Watchman John Osborne, d. December 1, 1853
At the beginning of the nineteenth century, Cleveland was a sparsely populated frontier settlement founded in 1796. The early occupants bore the responsibility for protecting their own lives and property. As the City continued to grow, the Marshal's office had to contend with increased rowdiness and lawlessness from the patrons of the many saloons in operation. In November of 1853, this "lawlessness" had the most serious consequences for a city employee, Watchman John Osborne.
On Sunday night, November 20, 1853, Watchmen Osborne and Wilcox were walking up Superior Street Hill when an immigrant, John Howly stabbed Osborne in the neck from behind in an unprovoked attack. On Thursday, December 1, 1853, Osborne succumbed to his injury.
Patrolman Louis D. Weick, d. December 10, 1903
On December 9, 1903, at 2:30 am, Patrolman Louis D. Weick was on foot patrol in the Eagle Street and Sheriff Street (now E. 4th Street) area. Thomas Bishotta, and several others were standing in front of a restaurant located on Sheriff Street. The group was creating a disturbance and Patrolman Weick approached the group to investigate. They walked away but Bishotta, who stood his ground and began arguing with Weick. As Weick took hold of Bishotta to arrest him, a struggle ensued. During the struggle, Bishotta pulled a revolver and fired three shots at Patrolman Weick. The first shot missed but the next two struck Weick in the right side of his abdomen. Although Weick regained consciousness at the hospital and was able to positively identify his assailant, he died of his injuries at 8:50 am.
Patrolman Albert Miller, d. December 3, 1913
On Sunday, November 30, 1913, in the early morning hours, Patrolman Albert Miller of was asleep in his home on Mead Avenue. Two doors away, neighbor Joseph Maleck was hosting a party to which a group of persons were demanding entrance, insisting they were invited, the group became threatening and Miller was called from his sleep.
The drowsy and half-dressed policeman stepped from his door and into the street. His appearance drew jeers from the mob and his orders to disperse brought on a rush. Just before he was thrown from his feet, he managed to fire his revolver into the air as a desperate signal for help. While his wife Ida watched as Miller was beaten and kicked as he lay in the street. He tried to regain his feet and was struck in the head forcefully by a man swinging a fence picket. Seeing the policeman motionless on the ground, his assailants ran away.
Party guests and neighbors came out and assisted Miller into his house. Doctors were called and a police emergency vehicle transported him to St. Alexis Hospital. Surgeons reported Millers skull was fractured and operated, removing a section. Miller was not expected to survive.
On Wednesday, December 3, 1913 at 1:19 am, Patrolman Albert Miller, died as a result of his injuries.
Patrolman Patrick Gaffney, d. December 19, 1918
On December 18, 1918, Patrolman Gaffney, along with his partner Captain Patrick Hendricks responded to the Elm and Coit Road area for two males attempting to steal an automobile from a garage.
Upon arrival, suspects immediately opened fire and approximately seventeen shots were exchanged in the ensuing shootout. One of the bullets struck Captain Hendricks' flashlight wounding him slightly. During the chase, another bullet struck Patrolman Gaffney in the right lung, an injury which proved to be fatal.
Patrolman William C. Isaac, d. December 1, 1919
Early Monday morning on December 1, 1919, Sergeant Isaac and Patrolman John V. Masterson were on rounds and entered Coleman's Saloon at 5208 Euclid Avenue through the side door. As they entered, they noticed three men in the kitchen. Sgt. Isaac led the way and ordered Patrolman Masterson to search the men. One of the men was seated and the other two were standing, one with his back to the sink. As Masterson started the search, the one with his back to the sink tried to slip a revolver into the sink. Sgt. Isaac started toward him ordering him to turn the gun over. The gunman fired two shots, one striking Isaac, sending him staggering into Patrolman Masterson's arms. The impact of Isaac's weight dropped Masterson to his knees.
Isaac was taken to St. Luke's Hospital, where he died within a few minutes without regaining consciousness. Sergeant William C. Isaac was the third Cleveland policeman shot and killed in the line of duty that year and the fourth to be slain within a year.
Patrolman Robert Shelton, d. December 7, 1919
On Sunday, December 7, 1919, shortly after 2:00 am, Patrolman Robert Shelton, was shot and killed in the line of duty. Shelton was the second officer to be killed within a week and the fourth officer killed in less than a year.
It was believed that many of the criminals pouring into Cleveland was due to raids on criminal activities in Toledo, Detroit and Chicago. As a result of Sheltons shooting, the police chief increased the force by assigning 61 Cleveland Police Academy cadets to regular duty. The cadets were to man a door-to-door search of an area which turned up the suspect's coat in a garage near Engine House #17, at 5303 Windsor Avenue.
Shelton stumbled on an attempted burglary at the Standard Drug Company store located at 6821 Euclid Avenue. Shelton pursued the two would-be burglars and apprehended suspect, John Platzky, alias Stanley Platzky, a twice convicted felon.
Platzky claimed to live at 1920 E. 69th Street, but the woman who answered the door told Shelton she never saw him before. Shelton called the police station from the patrol box at the corner of E. 66th and Euclid. Sergeant Spellman informed him the Patrol Wagon was out so Shelton and his prisoner proceeded to the station on foot.
They were within several blocks of the station when Shelton was shot.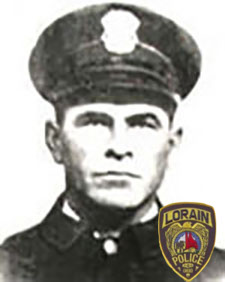 Patrolman Fred J. Webber, d. December 22, 1923
Appointed to the Lorain Police Department on February 18, 1918, Patrolman Webber was the city's first officer killed in the line of duty. Patrolman Webber was slain while attempting to arrest Walter Thomas, a drunk-crazed gunman. Patrolman Webber and Patrol Driver Mackerty were called to a restaurant by Officer Sageto to pick up a man arrested for causing a disturbance.
Nearing the restaurant, Webber saw a man standing by a bus flourishing a revolver. The officer dashed from the car followed by Mackerty. Webber grasped the wrist holding the gun at which time several shots were fired. Mackerty pulled his gun and fired at the gunman. As Mackerty reached the two wounded men who were wrestling on the pavement, he pulled his black-jack and stunned the gunman.
Officer Sage came out of the restaurant and saw Webber was badly wounded. Sage ordered a bus driver to take Webber to the hospital where he was pronounced dead.
Patrolman Otto Mosholder, d. December 10, 1965
On February 3, 1917, Officer Otto Mosholder was making a routine call at East 22nd and Woodland when he noticed, Patrolman Stewart following two men with a push cart turning into Decatur Court. Patrolman Stewart was talking to the men and began to take the cover off the cart to inspect the contents when the men suddenly pulled revolvers and fired at both patrolmen.
Officer Mosholder was wounded and Patrolman Stewart escaped unharmed. Both suspects vanished without a trace. Officer Mosholder was unable to return to work and after a lingering and debilitating illness, died as a result of an infection in his wound on December 10, 1936.
Patrolman Virgil T. Bayne and Patrolman Gerald Bode, d. December 18, 1937
On Saturday, December 18, 1937, at 11:00 pm, Patrolmen Virgil Bayne and Gerald Bode were shot and killed in an exchange of gunfire at Mullen's Service Gas Station on 8609 Buckeye Road.
Patrolmen observed five suspects acting suspicious and attempted to question them. Patrolman Bayne approached one of the men who was out of the car and identified himself as a police officer. At the same time, Patrolman Bode approached the left rear of the auto to question the vehicle's occupants.
As Patrolman Bayne began to search the suspect he had been talking to, the suspect backed away and pulled a revolver, firing several shots at Bayne, fatally wounding him. Almost simultaneously, Patrolman Bode was met with a hail of gunfire from the suspects inside the vehicle and was fatally wounded also. Although mortally wounded, the officers were able to return fire before their attackers sped off.
Both officers were pronounced dead on arrival at St. Luke's Hospital.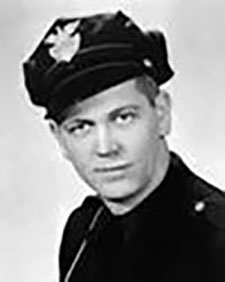 Patrolman Forney L. Haas, d. December 8, 1951
On December 8, 1951, Patrolman Haas arrested George Ross and was taking him to 8120 Euclid Avenue for identification. Ross claimed he lost his identification and asked Haas to accompany him to the Euclid Avenue address.
Upon arrival, they were met by rooming house owner, Mrs. Lottie Cooper. Mrs. Cooper advised at approximately 1:30 pm Haas and Ross entered the rooming house at which time Haas inquired how long Ross had been rooming there. Ross went upstairs to his room and as Haas followed, he turned to ask another question. Mrs. Cooper advised she heard three shots and Haas fell down the stairway to the first floor landing. Haas was transported to Mt. Sinai Hospital where he was pronounced dead on arrival. Patrolman Haas sustained a gunshot wound to his chest, the top of his head and his left arm.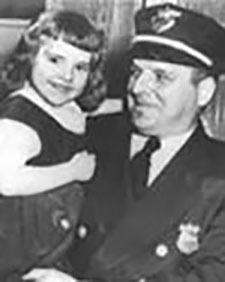 Police Lieutenant Edward G. Lentz, d. December 9, 1957
During the early morning hours of December 9, 1957, while on supervisory patrol duty in the Third District, Lieutenant Edward G. Lentz was flagged down by Alonzo Buchanan of 5616 Quimby Avenue. Three men, Dallas Milam, Robert Lyons, and James Wilson Davis invaded the Buchanan's home, stole three guns and $425.00. One of the guns, a .38 caliber Colt revolver was used to kill Lieutenant Lentz.
The three burglars bound Alonzo and Ruth Buchanan with strips torn from bed sheets and left the couple in basement of their home. Alonzo Buchanan freed himself and climbed through a basement window for help. He ran to East 55th Street where he hailed Lieutenant Lentz, who was cruising in a zone car.
Lieutenant Lentz drove Buchanan back to the scene, arriving as the burglars car was pulling away. Lieutenant Lentz sounded his siren and the vehicle pulled over in front of 6210 Quimby Avenue.
Lieutenant Lentz radioed dispatch: "Send a Fifth District car to 6210 Quimby. I have three suspects to check out. Tell them to hurry." Car 531 responded to find Lieutenant Lentz mortally wounded. Two men were running east on Quimby while a third was behind the wheel of the 1950 Cadillac. Two were captured at the scene, and the third fled.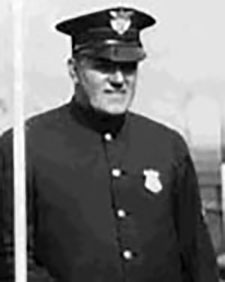 Patrolman Arthur W. Guenther, d. December 19, 1961
On June 9, 1950 Guenther and his partner and driver, Theodore Vanik, were dispatched to a crash scene. They never got there. They were in transit to the crash site with emergency lights flashing and sirens screaming when, from a side street, a car appeared and hit the ambulance and knocked it over. Guenther was thrown out of the vehicle and the wagon tipped over on top of him. Vanik and others manhandled the heavy ambulance upright and off Big Art, so that the top-heavy vehicle flipped over onto its other side.
Guenther's head landed in a catch basin at the curb, otherwise his head would have been smashed as his body was. His pelvic bones were broken, his hip was smashed, right shoulder fractured, ribs fractured and his right knee had fifteen (15) bone fractures.
When he arrived in the Emergency Room at St. Alexis Hospital the doctors gave him 3 minutes to live, but he fooled them and his strong heart kept on pumping. He lived for eleven pain-filled years during which he had fourteen operations.

Patrolman Chester Burmeister, d. December 23, 1964
When Burmeister reported for duty on October 20, 1935, he was to escort a funeral procession which had left Barberton and was making its way through Cleveland. Unfortunately, Burmeister would never complete his tour of duty that day. Burmeister, while on duty, was involved in a traffic accident and was to become Cleveland's two hundred fiftieth traffic fatality.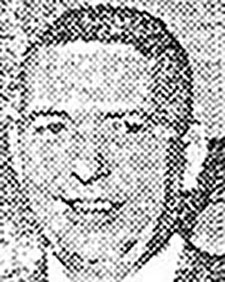 Captain Jerome C. Poelking, d. December 8, 1975
On Friday December 5, 1975 at approximately 2130 Hrs., Captain Poelking received a telephone call at his home while he was hosting a party, stating that there were hostages being held in the basement of a tavern. Since he was the Chief of Detectives, he was requested to respond to the scene.
Upon arriving at the Voyagers Lounge at 11802 Kinsman Rd., he went to the basement of the establishment for further investigation to confer with the Detectives already on scene. While he was exiting the very congested basement area in which there were some 17-19 people, he was spat upon in the face. Over the next several days, Captain Poelking complained to his wife, Mary, he did not feel well.
On December 8, 1975, he awoke suffering from chills, a temperature of 104 degrees, and difficulty breathing. He was then transported to Hillcrest Hospital where he died a short time later.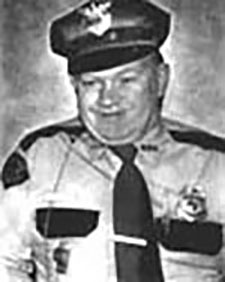 Auxiliary Captain George Maxin, d. December 31, 1976
Captain Maxin was a member of the church and always volunteered his traffic duties to the church. On December 31, 1976, while directing New Year's Eve church service traffic, Captain Maxin was struck and killed by an auto in front of St. Mary Magdalene Church in Willowick. After questioning the driver of the car, Willowick Police did not hold him.
Captain Carl E. Summers, d. December 10, 1977
On December 5, 1977, at 3:15 am, Captain Carl Summers and Patrolman Steve Gray, in two separate cruisers, pulled over an allegedly stolen pickup truck on Avon Lake Road, just north of Lodi. As the truck came to a stop, the driver fled on foot with Patrolman Gray in pursuit. Captain Summers remained with the vehicles.
When Patrolman Gray retuned with the suspect in custody, he found Captain Summers lying on the road, unconscious, struck by a hit-skip vehicle. Summers was transported to Akron City Hospital where died of his injuries.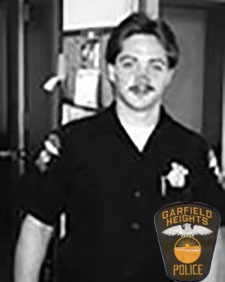 Patrolman Michael W. Brown, d. December 8, 1994
December 8, 1994, is the day that will be forever remembered and never forgotten. December 8, 1994, was the day when officers Stefanov and Brown were killed in an accident while in a high speed vehicle pursuit. Not only were two excellent officers lost, but fine respected men are now gone.
Mike's IQ score placed him in the Genius category. Mike could have chosen any profession, but he chose to serve the public and became a Police Officer. Mike's intelligence and wit developed him into an excellent officer after only four years on the job.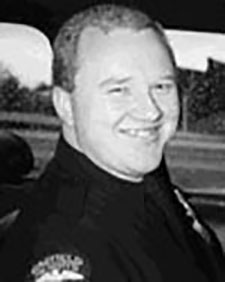 Patrolman Robert A. Stefanov, d. December 8, 1994
There was only one thing Bob Stefanov ever wanted to do, follow in his father's footsteps and be a good police officer. On September 18, 1989, Bob's dream came true, that's the day he was appointed a Garfield Heights Patrolman.
On December 8, 1994, Patrolmen Bob Stefanov and Mike Brown observed a suspicious vehicle in the area of McCracken and Broadway Roads. As they went to investigate, the vehicle drove off. They attempted to stop the vehicle by activating their emergency lights and siren. The vehicle continued pulling away from them. They radioed in the license plate of the vehicle and were advised that the owner was wanted on a traffic warrant. They continued to pursue the vehicle, and at the intersection of Lee and Harvard Roads, another vehicle crossed their path. They attempted to swerve around the vehicle but struck the front of it. The police car then went out of control, striking two utility poles and causing fatal injuries to both officers.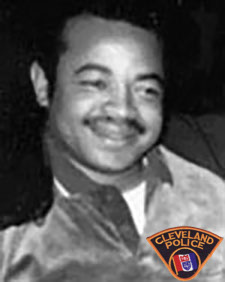 Patrolman Edward Claybrooks, Jr., d. December 27, 1996
Two days after Christmas, on December 27, 1996, at 11:10 in the evening, Cleveland Police Patrol Officer Edward Claybrooks was working his part-time job providing security for Romitos pizza, 18412 St. Clair Avenue. He observed a vehicle pull into the parking lot and park illegally in front of the pizza shop. The occupant sat in his vehicle for several minutes. Officer Claybrooks approached the vehicle and advised the occupant that he could not park there.
The vehicle occupant became very hostile and exited his vehicle and confronted Officer Claybrooks to the point where a violent struggle ensued. When Officer Claybrooks was able to break away from the suspect, he entered the pizza shop and called for assistance. The suspect fled east on St. Clair Avenue. in his truck.
When back up officers arrived on scene to assist, they observed Officer Claybrooks in a state of disheveled appearance and short of breath. Within a few minutes of their departure the zone car officers heard a second call of "officer needs assistance" at the St. Clair Avenue address where they had talked with Officer Claybrooks. The zone car returned to the scene and found Officer Claybrooks in full cardiac arrest and being treated by fire and EMS personnel.
Officer Claybrooks was taken to Meridia Euclid General Hospital where additional attempts to revive him failed.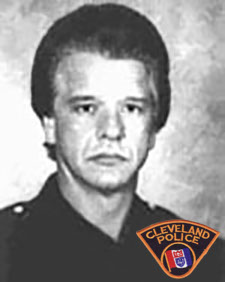 Patrolman Hilary S. Cudnik, Sr., d. December 30, 1996
Officer Cudnik and his partner, Officer Frank Costanzo chased a car with license plates that had been reported stolen from the corner of East 77th and Carnegie Avenue. The suspect's auto failed to negotiate a turn at that intersection and ended up on the sidewalk against a building.
The suspect, a 37 year old convicted felon and drug abuser exited the stolen auto armed with a M-14 semi-automatic rifle and 30 round magazine, opened fire.
"There is no safe place, no place to find cover against a weapon like this. It would go through a bullet proof vest like a hot knife through butter," said Homicide Detectives and A.T.F. Agents.
Officer Hilary Cudnik was hit six times including a fatal wound to the chest. He was rushed to Mt. Sinai Hospital by a Zone Car and was pronounced dead at 2:33 a.m.